Backpacks of Hope
7/29/2013 by Sara Richardson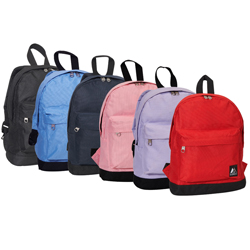 Will you help us fill 100+ backpacks for African refugee/immigrant students? Africa Hope Community serves African refugee/immigrant families who have come to the U.S. Many of these families are cared for by single moms who have very limited incomes. Giving these backpacks of school supplies will free up resources they need for rent, food and clothing.

Adopt a Backpack of Hope and fill it with the following items:

- 2 blue pens, 2 red pens
- one set of 12 colored pencils
- 1 box 24-count crayons
- 36- #2 plain pencils
- Six glue sticks
- 3 pocket folders with brad clasp
- 1 pkg. 8-count classic colors markers
- 1 pkg. of DRY-ERASE MARKERS
- Index cards-1 package, white, 3x5, lined
- 1- 12" Ruler (metric and standard) wood or plastic
- 1 expandable plastic accordion folder with maximum of 8 tabs
- 1 five-subject notebook - wide ruled, and 1 one-subject notebook – wide ruled
- 1 pair of scissors
- Wide-ruled loose leaf paper (1 pkg-200 count)
- 2 highlighter markers (any color)
- 2 large pink pearl erasers
- 1" heavy duty binder

BONUS: scientific calculators-for high school

You can drop off the filled backpacks at WaterStone Church on (or before) Sunday, August 4th or 11th at the AHC table. Contact Joni Leahy at 303-668-4882 or bobandjoni@comcast.net if you need to make other arrangements.

* If you have extra items to donate we can always use hygiene items such as toothpaste, toothbrush, shampoo, lotion, soap, deodorant, toilet paper, feminine hygiene items, laundry soap, dish soap, etc.
Tags: None